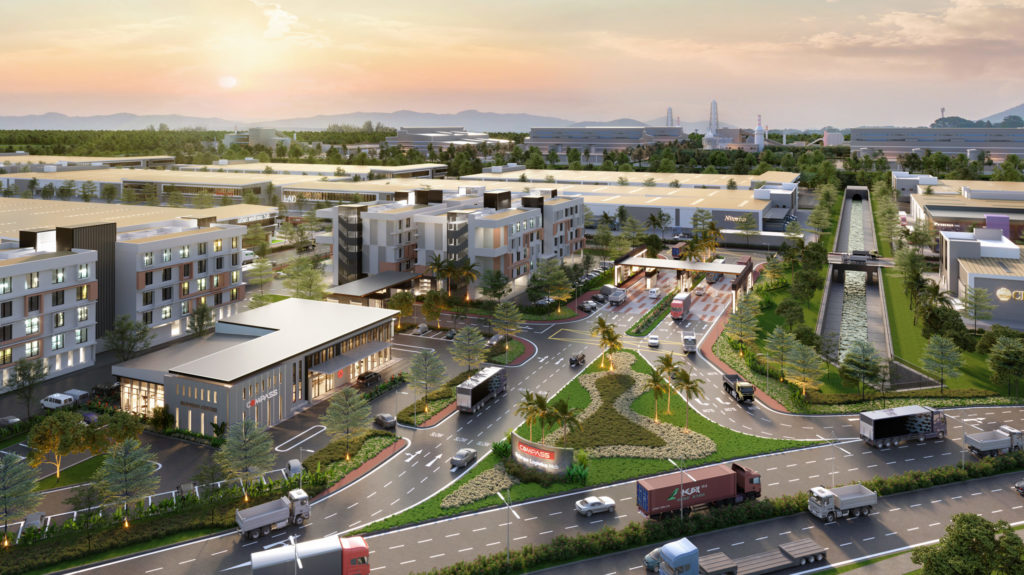 KUALA LUMPUR (Aug 25): The Compass @ Kota Seri Langat (Compass @ KSL) was officially launched on Aug 25.
Developed via a joint venture (JV) between Permodalan Nasional Bhd (PNB) through its indirect wholly-owned subsidiary MIDF Property Bhd; KWEST Sdn Bhd, a wholly-owned subsidiary of Kumpulan Wang Persaraan (Diperbadankan) (KWAP); and AREA Group of Companies, through their subsidiary AREA Industrial Development Holdings Sdn Bhd, the industrial development is a 220-acre freehold, green certified project with a gross development value of RM1.2 billion.
In a press statement, Compass IP Sdn Bhd director Datuk Stewart LaBrooy said the launch of Compass @ KSL is the JV partners' first sustainable industrial development project to be launched in Selangor, which he hopes will pave the way for similar industrial park designs in the country. The management at Compass was working closely with Invest Selangor and the Selangor state government to ensure that Compass @ KSL complies with the latest Managed Industrial Park guidelines drawn up by the state government.
The fully integrated park is built for industrial and logistics operators, as well as small and medium enterprises (SMEs). It will offer two concepts: the Compass Industrial & Logistics Park — a green certified 120-acre industrial park that caters for built-to-suit or customised warehouses and manufacturing lots with sizes ranging from 130,000 sq ft to 500,000 sq ft; as well as the Compass SME Precinct — a 59-acre park that comes with ready-built factories and warehouses measuring in sizes of 3,600 sq ft to 50,000 sq ft.
"Our goal is to reinvent the industrial estate, as we know it by turning ordinary industrial products into exciting new facilities that will cater for the future needs of our clients, as they embrace technology as a key driver for their success. The Compass @ KSL has been designed to leverage on the rising demand for a new type of industrial space that is automation friendly and environmental, social and governance (ESG) compliant, thereby enabling export-oriented companies to meet their overseas customers' ESG compliance requirements," said LaBrooy.
He added that the purpose-built and ready-built units have been designed to support the installation of energy saving and water harvesting features — all positives when compiling ESG scores. They have also established partnerships with leading green energy, industrial automation consultants and systems integrators, as well as managed worker accommodation to help clients achieve their digital transformation and ESG goals, he added.
The Compass @ KSL targets MNCs of various sectors including pharmaceutical, electronics and electrical, manufacturing, engineering, logistics, food and beverage, processing, and packaging-related manufacturing and industrial activities. "The development is expected to start construction later this year and will contribute towards attracting high profile industries to the park. It will provide a catalyst for Selangor to achieve its goal of being the preferred destination for manufacturing, logistics and other industries arriving in Malaysia," said Labrooy.
The gated and guarded industrial and logistics park will come with state-of-the-art security systems and is strategically located in the centre of a triangulation between North Port and West Port, KLIA and Shah Alam. It is also easily accessible to the Klang Valley via a dedicated link to the upcoming West Coast Expressway.
Selangor state executive councillor for industry and trade Datuk Teng Chang Khim said: "We have now introduced many new initiatives and incentives to make Selangor attractive to all foreign investors. Selangor launched a five-year master plan called the Rancangan Selangor Pertama (RS-1), to strengthen both social and economic progression. The RS-1 framework will offer a strategic and holistic approach with a vision to be a state that is liveable, prosperous and smart by 2025. This will be done through strengthening the economy, enhancing social inclusivity and well-being, advancing sustainability, as well as advocating smart and effective governance".
The statement added that the RS-1 aims to elevate the economic growth of the state and attract investors to use Selangor as the launchpad into the Association of Southeast Asian Nations (Asean). The Regional Development Plan under RS-1 includes the Integrated Regional Development in South Selangor (IDRISS), the Development of the Sabak Bernam Area (SABDA), and the Selangor Maritime Gateway Economic Development Zone (ZPE SMG).
By Chung Ying Yi, Edge Markets